After-Party Chemistry Demo v. 1.0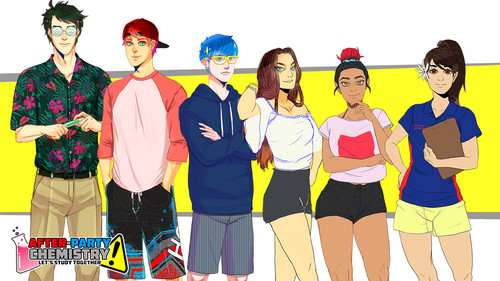 Hey guys! I posted this to my tumblr already, but I thought I'd share it here too.
I'm cleaning up some of the sprites that weren't finished in the demo. I changed JC's eyes a bit. She looks more... sinister? Mischievous? Also I lined them all up so you could see their height comparison.
From left to right: Mr. Kagaku, Sidney, Basil, Asia, JC, and Kelsi.
Edit: Marina's not in the line up because I didn't actually draw a knee-up sprite for her LOL (sorry girl..)
Other changes I've made that I can't show you...
Added the "skeleton" for the first full week of the game along with some scripted events with the boys.
Added a weekend after the Friday where the demo cuts off. You can now choose to do things during the weekend too!
Added another character introduction on Thursday. She's not shown in the sprites above.
Drew a sketch for the diamond to replace the placeholder image from the demo.
There's probably other things I've done, but they weren't too significant.
Thanks for your support!
Get After-Party Chemistry Demo v. 1.0